Hi all!
Sorry for the lack of update this week, many have been asking when the next update will be.... and it will be on next
7th Sept Monday at 7pm
. I am dead tired from my HongKong trip! And along comes with some great finds!
We are thinking of adding in a premium collection (higher price, quality) and will love to hear options about it! It will definitely we worth the money still!
Pictures of the upcoming post!!!! Loads of lace!!! And Sequins!
Also, a short introduction to Reebonz if you have yet to hear this before. I was caught in the hype during the prelauch of the site and have been addicted to it! And should I add, I am so disappointed that I missed the Prada event they held since I am not in Singapore :(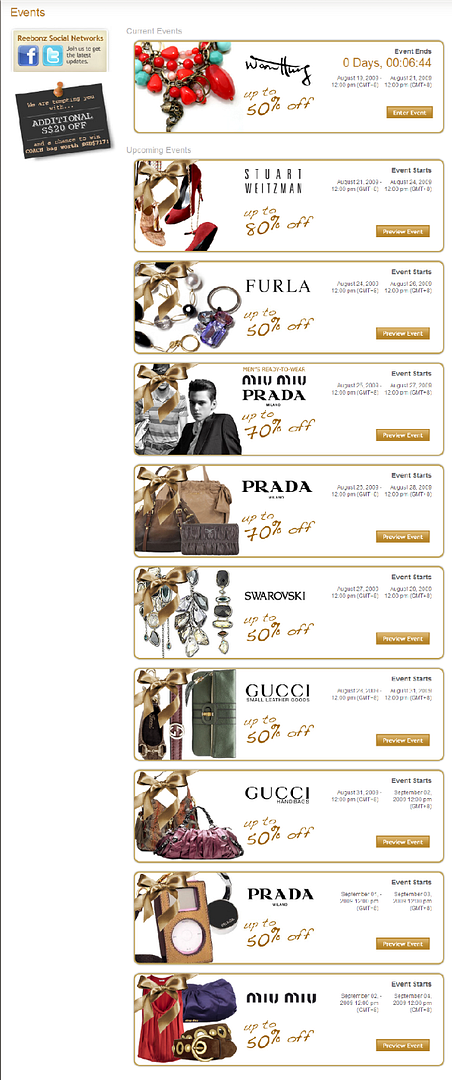 Reebonz is Asia Pacific's first exclusive online shopping destination of premier brands and private sales. Like its tagline "Unveil the surprise" suggests, Reebonz is akin to a present. Once you untie the "reebonz", a surprise awaits you! This refers to the "events" that Reebonz hold, which last for a short period of time and that are open exclusively to members only. Brands that have made their appearance on Reebonz previously include Miu Miu, Prada, Coach and Kate Spade. More importantly, discounts at Reebonz can go up to 70% for some products!
Currently, Reebonz provides shipping to all of Asia Pacific, so whether you are in Indonesia, Philippines or Brunei, you can still shop at Reebonz! In addition, Reebonz website has a simple and classic layout to allow of easy navigation.
Some of the recent past events on Reebonz include
To gain access to these private sales and more, the kind people at Reebonz have now created an invitation code especially for THESCARLETROOM readers to sign up! Simply enter the invitation code "http://www.reebonz.com/invite_code/scarletroom" at www.reebonz.com or click on http://www.reebonz.com/invite_code/scarletroom and proceed to sign up as a member!
For those who are interested to know more about Reebonz and their private sales, you may join their Facebook fan page (http://www.facebook.com/group.php?gid=48874564684) or visit their blog (http://blog.reebonz.com/).
Back to more emails and packing!
Phew!
Seriously I am excited that we will be having a shopping cart system soon! Discussions have been in with the web designer. Imagine having more time to do more useful stuff!!! I will be able to have more time to do designing work, packing and mail items out faster.
Should everything goes well we might be having a personal space soon! Shall keep that underwrap!